January was 4 books. I read two and listened to two Audiobooks on my drives to/from work.
I received a copy of
That Season of Hope
by Keith Larson last year at a networking event where I learned about Hope Stout's life. She's the 12-year-old girl on the cover, hugging former Carolina Panther player Kevin Donnalley. I'm sure that I loved this book even more because of the time of year I read it, and since I'm a Panthers' fan, but I
highly
recommend this book to everyone-no matter which team you pull for! I cannot imagine being in the Stout family's situation, but I do know that if anyone ever had to endure the trials that they have, I would hope it would be in this beautiful, inspiring way. I love the voice of this book being from Keith Larson's point-of-view.
This was my favorite of the month!
I decided to read
I Didn't Come Here to Make Friends
by Courtney Robertson, who was a Bachelor contestant on Ben Flanjik's season and ended up being the winner. I watched that season, and I remember along with most of America, not liking Courtney. However, I know that much of what you see on those shows is the way it is edited and manipulated by producers, so I thought it would be fun to read her perspective. This was a fun, juicy, easy read. If you like the Bachelor/Bachelorette franchise, then you will enjoy this!
My first Audiobook this month was
The Storied Life of A. J. Fikry
by Gabrielle Zevin. The overall plot of this book was great, and I enjoyed listening to it. I do not know if I would have liked it as much if I had read it. Since this book timeline covers many years, parts of it felt a bit disconnected to me. I did love the details about other books within this one, and the general fantasy of owning a bookstore adds to any reader's interest in this book.
I really enjoyed The Liar by Nora Roberts. I found it to be a little bit more predictable than other Roberts books I have read. Without giving away any spoilers, I will say I also struggled with some of the technical details of the book. If you overlook those little nuances and just enjoyed the writing, the plot was entertaining and I would recommend it to others.
And then yall....Let's call this the one that never was. Haha....I tried. I know there was hype over the
50 Shades
trilogy, and while I did not read any of those books I did watch the movie of the 1st book which I thought was pretty good...aside from the whole S&M aspect which I just don't find appealing. So, I figured I would give
Grey
a shot to read the story from Christian Grey's perspective, and I think I listened to maybe 10 minutes of the first CD for this Audiobook and I just couldn't. I just found the whole thing to be so derogatory towards women. Even aside from the whole dominant/submissive roles of S&M, his inner thoughts about even their first meeting were so sexist and derogatory. I'm no feminist, but this was just too much.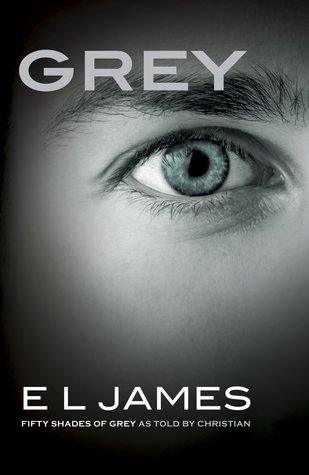 Check back with me next month for my February book review! You can get sneak peeks by following me on Goodreads
here
. What have you read lately that you're loving?